Pawandeep Rajan and Arunita Kanjilal's 'wedding' picture goes viral; fans will be left shellshocked
Pawandeep Rajan and Arunita Kanjilal's 'wedding' picture goes viral; fans will be left shellshocked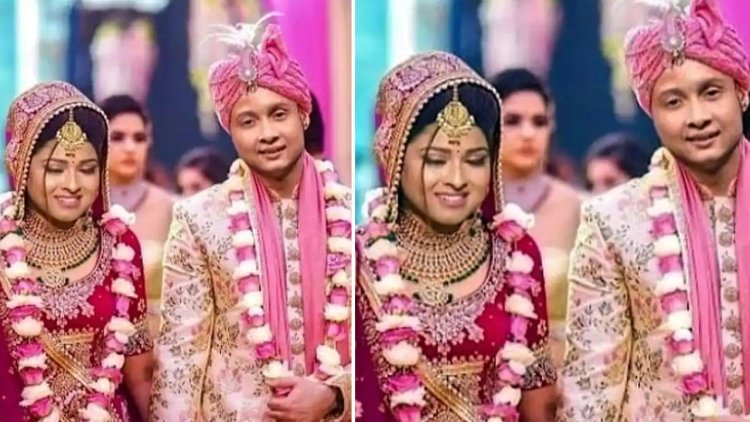 Pawandeep Rajan-Arunita Kanjilal wedding pic edit
A couple of days ago, Pawandeep Rajan and Arunita Kanjilal grabbed headlines for their alleged breakup. It so happened that Arunita backed off from acting in the music video series that she and Pawandeep had signed up for Octopus entertainment. And that led AruDeep fans to believe that their equation had gone kaput. However, that's not the case. Pawandeep and Arunita continue to remain friends. AruDeep shippers are so crazy that following the rumours that they edited Pawan and Arunita's pictures as a married couple. We wonder how Pawandeep and Arunita will react to this pic.
AruDeep mania
Pawandeep and Arunita are being shipped together for over a year now. It all began in Indian Idol 12 as the duo performed a lot of songs together and entertained the guests and audience every week.
Pawandeep Rajan-Arunita Kanjilal - Best Jodi
It wouldn't be wrong to say that whenever Pawandeep and Arunita Sing together on stage, it's just a treat for everyone. These pictures are from their recent concert event. While Pawandeep is rocking his usual Pahadi look, Arunita is slaying it in a gorgeous saree.
Pawandeep and Arunita's special connection
What really connects Pawandeep and Arunita and also their fans with them is the music. It's like a soul to soul connection which may be one of the reasons behind AruDeep fan mania.
Adorable AruDeep
One have to admit, they not just sing good together but also look good with each other. Pawandeep and Arunita are best of friends and gel well with each other.
Always together Pawandeep-Arunita
During Indian Idol 12 and even now, Pawandeep Rajan and Arunita Kanjilal are always seen together or beside each other. They even pose alongside each other quite often. All these little gestures have led to the fan mania behind AruDeep.
What's Your Reaction?